Challenging, stressful, and long hours are three ways to describe the workplace environment for healthcare workers.
US Surgeon General Vivek Murthy, MD, has firsthand experience with these working conditions since the start of his medical training, as he writes in an advisory aimed at building a thriving health workforce.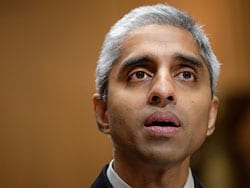 Murthy adds to this list of stressors the arrival of the COVID-19 pandemic and the administrative burdens associated with prior authorization requests and other documentation and reporting requirements in a newly issued advisory titled "Addressing Health Worker Burnout: The U.S. Surgeon General's Advisory on Building a Thriving Health Workforce."
Murthy told WebMD's John Whyte, MD: "The pandemic has made burnout rates and mental health struggles among healthcare workers worse…there's significant burden on health workers."
The advisory notes a healthcare system "at the breaking point," noting challenges that were present before the COVID-19 pandemic and issues resulting from it.
Murthy told Whyte that "challenges [such as] health misinformation, for example, are taking a toll on health workers as well. So many doctors and nurses tell me stories of how they have to contend with misinformation."
Some of the negative consequences of burnout for healthcare workers can include insomnia, heart disease, and diabetes. That's in addition to isolation, substance use, anxiety, and depression, according to the advisory.
"It is important we recognize [burnout] has been going on for a long time…but one reason for [the advisory] is I want the entire country to know that," Murthy added.
Medscape's 2022 Physician Burnout & Depression Report noted that half of male physicians and 60% of female physicians said they were more burned out now than during the initial months of COVID-19 quarantine.
Also highlighted in the advisory is the reality that millions of low-wage health workers served as orderlies, phlebotomists, home health and personal aides, and as housekeepers and cooks before and during the COVID-19 pandemic. More than 80% of these workers are women and many are people of color and living under the federal poverty level, per the advisory. The advisory recommends promoting health worker diversity, equity, inclusion, and accessibility to address the impact of bias, racism, and discrimination on the healthcare workforce.
Collaboration Is a Must Across the Healthcare System
The Surgeon General's advisory calls for a collaborative approach across public and private stakeholders and community partners to address the root causes of burnout among healthcare workers. This includes:
Protecting the health, safety, and well-being of all healthcare workers;

Eliminating punitive policies for seeking mental health and substance use care

Reducing administrative and other workplace burdens on healthcare workers

Transforming organizational cultures to prioritize health worker well-being and show all health workers that they're valued

Recognizing social connection and community as a core value of the healthcare system

Investing in public health and the public health workforce
Burnout among healthcare workers reached "crisis levels" before the COVID-19 pandemic, according to the National Academy of Medicine. In their 2019 consensus study report titled Taking Action Against Clinician Burnout, 35%–54% of nurses and physicians and 45%–60% of medical students and residents reported symptoms associated with burnout. The NAM provides scientific and policy advice regarding human health.
Provide Access to Mental Health and Substance Use Care
The Surgeon General's advisory observed that burnout is associated with mental health challenges including anxiety and depression. Although individual-level support helps, the advisory points to burnout as a "distinct workplace phenomenon that primarily calls for a prioritization of systems-oriented, organizational-level solutions."
Before the pandemic, women physicians, in particular, were considered at greater risk for suicide than their colleagues in Europe in Australia, according to a 2019 study in PLOS ONE.
In a 2021 Mayo Clinic Proceedings survey conducted among US physicians before the pandemic, 1 out of 15 physicians thought about suicide and were less likely to ask for help than colleagues who didn't report this experience.
Affordable, confidential, and convenient mental health care for clinicians can address this situation, according to the Surgeon General's advisory, which calls for "vulnerability and open communication around mental health and substance use care."
Telemedicine and virtual care models can provide support to healthcare workers, but equally important are improving parity and access to care, increasing insurance coverage for treatment, and stopping the use of punitive language in licensing the various health professions, according to the advisory.
Reduce Prior Authorization Burdens
Eighty-eight percent of physicians described prior authorization burdens as "high or extremely high," according to a 2021 survey by the American Medical Association, which also revealed that 34% of physicians said prior authorization led to a serious adverse health event for a patient.
To address these administrative burdens, the advisory calls for healthcare organizations, health systems, medical groups, and health insurers to regularly review and revise the need for prior authorization requirements. Another recommendation is improving transparency, communication, and the timely resolution of prior authorization requests.
Technology can help streamline administrative requirements such as documentation, reporting, and provider credentialing, per the Surgeon General's advisory. In a 2021 announcement, the trade association AHIP (America's Health Insurance Plans) said that implementing electronic prior authorizations may help with this effort.
Aine Cryts is a veteran health IT and healthcare writer based out of Boston.
For more news, follow Medscape on Facebook, Twitter, Instagram, YouTube, and LinkedIn

https://www.medscape.com/viewarticle/974528