Philadelphia's chapter The Links hosts family health clinic | Local News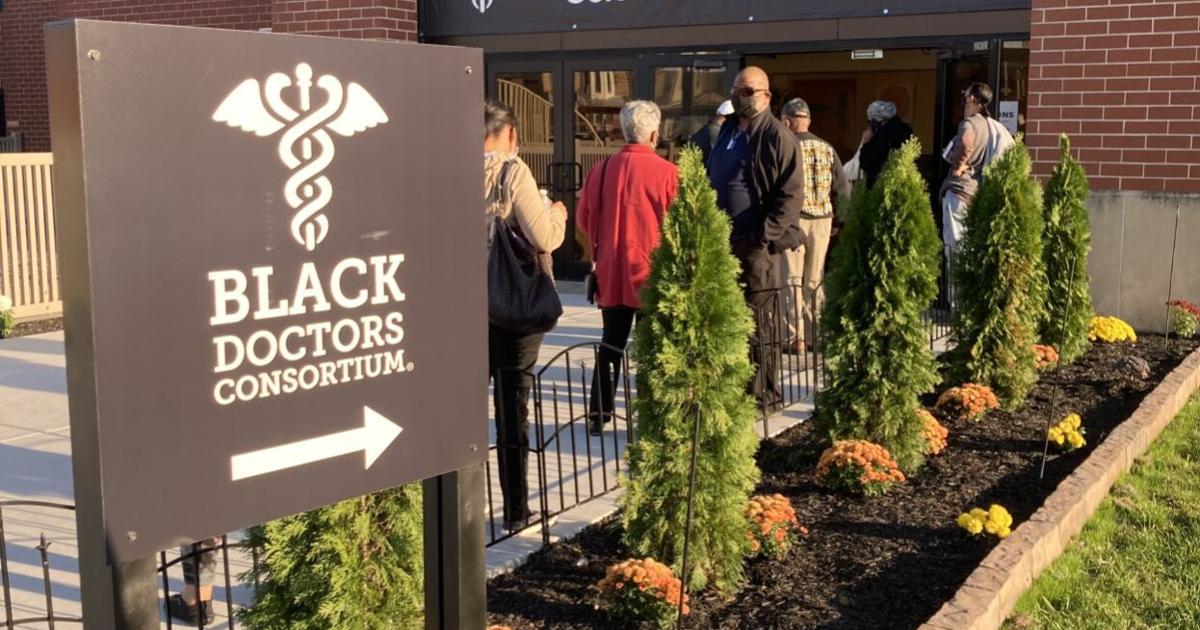 Marking its 75th anniversary, the Philadelphia chapter of The Links Inc. has partnered with the Maternity Care Coalition and the Black Doctors COVID-19 Consortium to provide vaccinations and booster shots, as well as maternal and infant health care resources.
The health services event recently drew a line of people outside the Dr. Ala Stanford Center for Health Equity in North Philadelphia.
"We have a line of people outside the door — some of them pregnant — that have been suspicious about the efficacy of the [COVID-19] vaccine and the safety of it," said Marianne Fray of the Maternity Care Coalition (MCC). "And so, to see people out the door, waiting to come in and be vaccinated is just incredibly rewarding. Because we do believe at MCC that those vaccines can save lives, and we want it to disseminate accurate information."
Fray hopes the event will make an impact so people receive proper care.
"We are incredibly grateful to partner with the Back Doctors COVID-19 Consortium, and especially celebrating with the Links, which is an incredible organization with national impact, international impact and care about the things that we care about as well, which is making sure that families are healthy, particularly black families, and that we're partnering to ensure that happens," she said.
Philadelphia Links focuses on health and human services.
"As it is our anniversary, we always typically do a day of service, because the organization was founded on friendship and service," said Philadelphia Links' Gina Golson Nunery. Margaret Rosell Hawkins and Sarah Strickland Scott founded the community service organization in 1946.
"Service has always been a part of what we do," Nunery said. "In order to really commemorate our 75th, we wanted to do something that was impactful, that was meaningful, and also trying to reach a population that has been underserved."
Statistics show that Black Americans — specifically Black women — are being vaccinated at slower rates than other races.
"I don't know of any other group, or demographic, than Black women, specifically Black women of childbearing age, who are or could be pregnant, who don't get the health resources that they need," Nunery said. "So we wanted to make sure that we were focusing on that community."
The Philadelphia Links is known for having strong community relations and partners.
"We've had a partnership with the Black Doctors Consortium as well as with the Maternity Care Coalition, and we've been working with them for years," Nunery said. "So it was very easy to figure out what we wanted to do."
Much misinformation has been spread in Black communities, said Philadelphia Links Past President Mahlene Duckett Lee. She hopes their efforts will dispel such mistruths.
"We know there is a lack of information or misinformation," Duckett Lee said. "And so what we've tried to do is listen to some of their concerns, and try to present a different side to them so that they can consider this very important vaccine."
"We've heard more and more stories about young mothers or mothers who go into labor prematurely, some don't survive and sometimes the babies don't survive," Duckett Lee said. "So this is an effort to try to reach that population to let them know that there are people that they can talk with, there are people that they can actually get the vaccine from."
Members of the three organizations volunteered to perform various roles such as checking people in, creating care packets with infant essentials and disseminating information.
The Links, Inc., National President Dr. Kimberly Jeffries Leonard was on hand to personally support the effort along with other anniversary events.
"It's all about the partnerships," Nunery said. "So it's partnering with organizations. Many times we can bring resources, or sometimes it's also a matter of having access to different voices and different people who can help support an issue. So while we promote, we support a lot of service work, we are in some ways a connector of sorts because we really try to connect with the community by getting the right resource from them."
https://www.phillytrib.com/news/local_news/philadelphias-chapter-the-links-hosts-family-health-clinic/article_54ffa98e-e5e4-534d-8cce-8f2436b30531.html