Lung Cancer Shrinks in Patient Using CBD Oil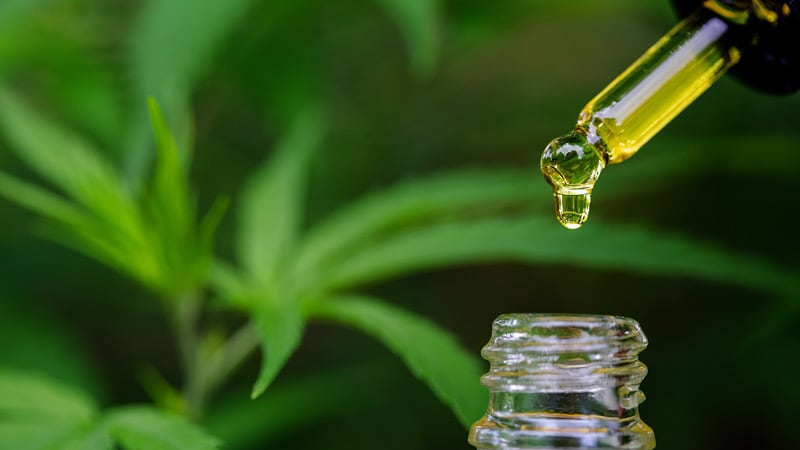 A case report describes the dramatic shrinkage of a tumor to a quarter of its original size in a patient with non–small cell lung cancer (NSCLC) who had declined conventional treatment, continued smoking, and who later revealed that she was ingesting cannabidiol (CBD) oil.
The patient was an 80-year-old woman.
At diagnosis, the tumor measured 41 mm, and there was no evidence of local or further spread. Hence, it was suitable for a standard treatment regimen of surgery, chemotherapy, and radiotherapy, note the authors.
The patient declined conventional treatment. She underwent monitoring with regular CT scans every 3–6 months.
After 2.5 years, the CT scans showed that the tumor had shrunk to 10 mm.
The patient then disclosed that she had been ingesting CBD oil, which had been suggested to her by a family member. It was taken orally about two to three times a day.
Details of the case were published on October 14 in BMJ Case Reports.
"We are aware of the limitations of this case report," write the authors, led by Kah Ling Liew, MD, of Watford General Hospital, Watford, United Kingdom.
"Although there appears to be a relationship between the intake of 'CBD oil' and the observed tumour regression, we are unable to conclusively confirm that the tumour regression is due to the patient taking 'CBD oil,' " they comment.
The team also notes that there are similar case reports in the medical literature.
Both points were emphasized by experts reacting to the publication via the UK Science Media Center.
"This is one of many such promising single case reports of medical cannabis self-treatment for various cancers," said David Nutt, DM, FRCP, FRCPsych, the Edmond J. Safra Chair in Neuropsychopharmacology, Imperial College London, London, United Kingdom. "Such case reports are biologically credible given the adaptogenic nature of the endocannabinoid system."
He noted that a "case report itself is not sufficient to give any form of proof that one thing caused the other ― we need trials for that. There are some controlled trials already started and more are required to properly explore the potential of medical cannabis in a range of cancers."
Another expert, Edzard Ernst, MD, PhD, professor emeritus of complementary medicine, University of Exeter, Exeter, United Kingdom, pointed out that in animal models, cannabinoids have reduced the size of prostate cancer tumors. "Previous case reports have yielded encouraging findings also in human cancers," he noted. He too said that further study is needed.
"Case reports cannot be considered to be reliable evidence, and there are currently no data from rigorous clinical trials to suggest that cannabis products will alter the natural history of any cancer," Ernst said.
Patient Declined Recommended Treatment
The patient initially presented with a persistent cough that did not resolve with antibiotic therapy. She has a history of mild chronic obstructive pulmonary disease, osteoarthritis, and hypertension. She is a current smoker with a 68 pack-year history of smoking. She has no history of alcohol consumption and is taking several prescription medications.
After an initial CT scan, she underwent a CT-guided lung biopsy and was diagnosed with NSCLC (TNM stage T2bN0Mx). Further analysis of the tumor tissue showed that it was negative for ALK and EGFR mutations. PDL1 was expressed by <1% of the tumor cells. No distant metastases were detected.
A subsequent CT scan revealed that the main tumor in her right middle lobe had shrunk from 41 mm to 33 mm. There were new bilateral upper lobe nodules, one in the left apex, which measured 4 mm, and one in right apex, which measured 6 mm.
The patient was referred to cardiothoracic surgeons for a possible lobectomy, but the patient declined to have surgery. She was then referred to the oncologists. She underwent repeat CT and positron-emission tomography (PET) scans, which showed that her cancer had continued to shrink. On CT, there was an 11-mm reduction, and on PET, an 18-mm reduction. The left apical nodule had resolved, and the right upper lobe nodule was reduced in size.
The patient was offered stereotactic ablative radiotherapy, but she declined this treatment. Because she had refused all standard therapies, a decision was made to "watch and wait." The patient underwent regular CT surveillance.
Over the course of 2.5 years, the tumor continued to regress. By February 2021, it had shrunk to 10 mm, which represents an overall reduction of 76% in maximum axial diameter. The average rate of reduction was 2.4% per month throughout the monitoring period.
"This case was brought to the attention of the local lung MDT [multidisciplinary team] in February 2019 when the serial imaging showed a reduction in tumor size despite having received no conventional treatment for her lung cancer," write the authors.
The patient was contacted to discuss her results. She revealed that she was using CBD oil and that she had started taking it in August 2018. No changes had been made in her prescription medications, diet, and lifestyle, and she continued to smoke a pack of cigarettes every week.
"I was not very interested in traditional cancer treatments," the patient said, "as I was worried about the risks of surgery, and I saw my late husband suffer through the side effects of radiotherapy. My relative suggested that I should try 'cannabidiol (CBD) oil' to treat my cancer, and I have been taking it regularly ever since. I am 'over the moon' with my cancer shrinking, which I believe was caused by the 'CBD oil'. I am tolerating it very well and I intend to take this treatment indefinitely."
The source of the CBD oil was outside the United Kingdom. The main active ingredients, according to her supplier, were Δ9-­tetrahydrocannabinol (THC), at 19.5%, CBD, at 20.05%, and tetrahydrocannabinolic acid, at 23.8%.
"The product used by this patient reportedly contained high levels of THC (the intoxicating component of cannabis) and was sourced from outside the UK," commented Tom Freeman, PhD, senior lecturer and director of the Addiction and Mental Health Group, University of Bath, Bath, United Kingdom. "This type of product is very different to most CBD oils, which predominantly contain CBD. Unlike prescribed medicines, CBD wellness products lack assurance of quality, safety, or efficacy and should not be used for medicinal purposes."
The authors have disclosed no relevant financial relationships. Nutt chairs the scientific committee of the charity Drug Science, which receives unrestricted educational grants from some medical cannabis companies. Ernst and Freeman have disclosed no relevant financial relationships.
BMJ Case Rep. 2021;14:e244195. Full text
For more from Medscape Oncology, join us on Twitter and Facebook.

https://www.medscape.com/viewarticle/960949