How to Make CBD Cocktails at Home, According to Experts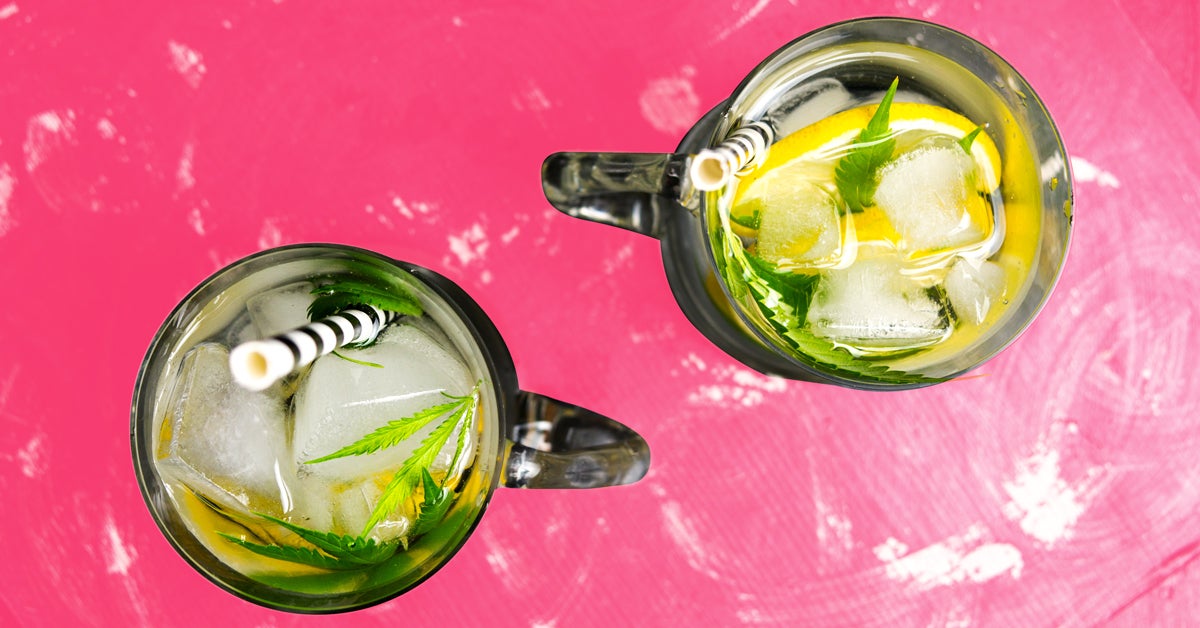 Here's how to make them at home, according to the experts.
As cocktail trends go, one of the more recent is also one of the most chill: CBD drinks. They've been proliferating on boutique bar menus along with the legalization of hemp and cannabis; combined with the ever-expanding palate of consumers thirsty for the next big thing in craft cocktails, bartenders and mixologists have continued to add new CBD concoctions to their repertoire. Home bartenders, too, can now dabble in the creation of CBD cocktails—which is a good thing since bars everywhere are currently closed, making us all our own mixologists.
However, there are still a lot of questions to be answered around CBD cocktails, for both the outside sipper, and ones who develop their favorite libations in their homes. From what a CBD cocktail is to how it will impact the flavor of your drink, we tapped experts to help break it down for you, one step at a time.
What Is a CBD Cocktail?
CBD drinks are cocktails that are infused with cannabidiol (CBD) from marijuana/hemp plants, notes Norman James Strobel, Beverage director at Jersey City, New Jersey-based South House.
CBD, while it isn't intended to get you high like marijuana is, aids in relaxation when it comes to sipping a cocktail. While bartenders and mixologists are adding CBD to cocktails that run the gamut, it has seemingly found a home amongst low-ABV drinks.
Additionally, there are different kinds of CBD that can be added to cocktails. This includes bitters as well as oil. The difference, said Lonnie Newburn, owner of The Boston Shaker in Somerville, Massachusetts, is that CBD tinctures or bitters are extracted using alcohol, while CBD oils are extracted using oils or fats.
Why Drink a CBD Cocktail?
"You might want to drink CBD cocktails because CBD encourages the production of naturally occurring endocannabinoids in the body. By taking CBD it ensures that your endocannabinoid system (ECS) is working in tip-top shape. It is believed that your ECS is responsible for maintaining homeostasis and keeping your body in balance," explains Strobel.
Newburn added that other benefits of sipping a CBD cocktail include the ability for it to act as a muscle relaxer or anti-depressant. However, this does not act as a long-term treatment solution. (For that, please be sure to consult your doctor.)
Does CBD Change the Taste of a Cocktail?
According to Newburn, the answer to this is yes. "As an extract, it will add subtle amounts of earthy flavor and aroma. CBD pairs well with gin," he says.
Where Can You Purchase CBD?
"Many natural health and nutritional retail locations carry Cannabidoil or CBD extracts," said Newburn.
Stobel says that he has found CBD oil in some unexpected places, too, so when you're on the hunt, keep your eyes open. "You can find the ingredients at local head shops and smoke shops; sometimes even online. I've even been fortunate enough to have found some CBD at local thrift shops in Jersey City," he says.
How Do You Make a CBD Cocktail at Home?
Newburn says that there are a few things to keep in mind when making a CBD-based cocktail at home. The first, he explains, is to monitor the amount of CBD you are using so that you do not overpower the drink itself.
"Start with small amounts of the CBD in the drink. The typical amount is 3 to 5 milligrams. This translates to about 8 to 10 drops or 2 to 4 dashes to a cocktail before shaking or stirring," he says.
After that? "Follow the classic rules for shaking and stirring a cocktail over ice. Shake for 10 seconds if your cocktail has citrus or stir for 20 seconds if your cocktail has no citrus," he says.
Strobel adds, "My only tip for new users is to not be scared of CBD whatsoever. It is in no way the same effect as THC. It's harmless and you will definitely benefit from it."
Disclaimer: CBD may or may not be legal in your area. Neither Greatist nor its parent company encourages or endorses any irresponsible behavior or illegal activity. If you choose to use cannabis or CBD products, please do so responsibly and only where permitted by law.
https://greatist.com/eat/its-time-to-chill-with-a-cbd-cocktail